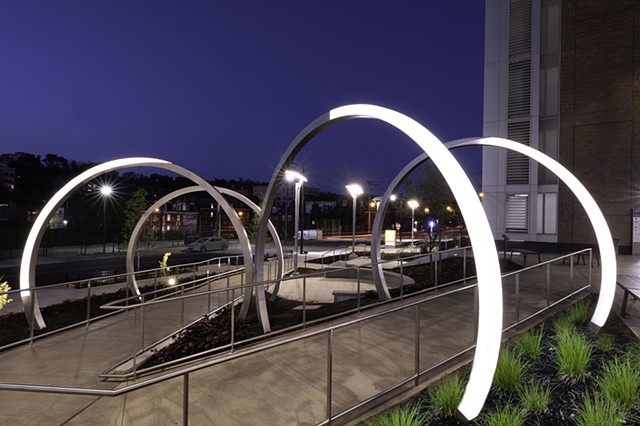 The Lunar Portal Installation view (Arches 1-4)
Mixed media: acrylic and stainless steel with a custom-built LED lighting system
The Lunar Portal Installation (8 arches) dimensions: variable.
2023
Portal Arches 1-4 Installation view
A site-specific, permanent public art installation designed for the UPMC Mercy Pavilion exterior plaza in Pittsburgh, PA. The eight phases of the Moon are represented as an archway along the two pedestrian paths in the plaza. Each pathway guides the public through 10-foot-tall archways (Portals 1-4 and 5-8) made of stainless steel and acrylic with a custom built LED lighting system. Custom software was written for the installation to calculate the 29-½ day moon phases, which changes the brightness, or intensity, of each arch and is designed to operate concurrently with the respective Moon cycle.